"IN PURSUIT OF AWAKEN YOUR INNER SELF"
"I use sacred objects, symbols, essention oils and touch of nature like feathers, flowers  
to keeps reminding us that this power of self
healing and transition exists, and allows us to seek for that highest energy, and it puts us in a
positive state of mind and spirit. My intention behind creating every single one of these hats are to help you balance both body and mind and
to bring you back to your pure awareness." ~ Mojee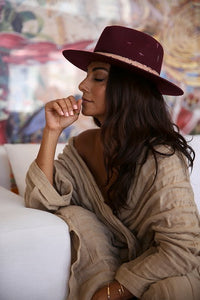 Mojee
About the Designer
Mojee has been handpicking the highest quality materials and
designing one-of-a-kind sacred adornments for more than a
decade. All of her designs are created with great love and
conscious intention - a mixture of what is stunning to the eye
and uplifting to the spirit. Inspired by her deep connection to
mother nature and traveling around the globe. Each treasure
is one-of-a-kind, Handcrafted and infused with rare and
luxurious embellishments.
learn more